Commissionaires is committed to a high standard.
CGSB
Canadian General Standards Board (CGSB) is a component of Public Services and Procurement Canada (PSPC). Its purpose is to provide standards development and assess conformity in support of regulatory and procurement objectives. CGSB sets standards for training and programs qualification to ensure security officers and supervisors have received the proper level of training to work at federal sites.
Commissionaires meets all training requirements of the standard and has successfully passed the two phases of program qualification. 
ISO Certifications
Every Commissionaires office across Canada is certified to the ISO 9001:2015 standard and is audited annually by an external certification body to ensure that all requirements of the standard are met and we achieve continual improvement. This certification is your assurance of our commitment to provide services of uncompromising quality, integrity and competence to all clients by continually upgrading our Quality Management Systems to better meet your needs.
In addition, many of our offices across the country are actively pursuing ISO 14001:2015 certification to reduce our impact on the environment, prevent pollution and comply with government environmental regulations. These offices have set specific objectives to reduce energy and resource consumption, and to prevent pollution by adhering to strict procedures.
The International Organization for Standardization, or ISO, is a network of national standards institutes from over 160 countries working in partnership with international organizations, governments, and industry, business and consumer representatives. It serves as a bridge between public and private sectors to assure clients about the conformity, quality, safety and reliability of our services.
Commissionaires National Office and 12 Divisions across the country are certified through the SAI Global certification body for the ISO 9001 and ISO 14001 standards. The remaining Divisions are certified through other certification bodies. More information can be found on the respective Division's "Standards" page.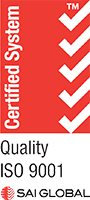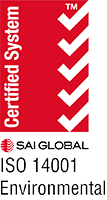 Forbes best employers
Commissionaires has ranked among the top employers in Canada for five consecutive years, 2016 through 2020, according to Forbes' annual list of Canada's Best Employers, and the only security company to make the list in 2018 and 2019.