September 16th, 2019
OTTAWA—September 16, 2019. Commissionaires Ottawa Group today announced it is donating $500,000 to the Multifaith Housing Initiative (MHI) and Governor General's Foot Guards Regimental Association (GGFG). $400,000 of this donation will be channelled into the MHI's Veterans' House – Heroes' Welcome campaign to build a three-story 40-unit supportive housing facility at the former CFB Rockcliffe Air Base. $100,000 will help fund the GGFG's annual commitment to provide immediate assistance to homeless veterans in Ottawa.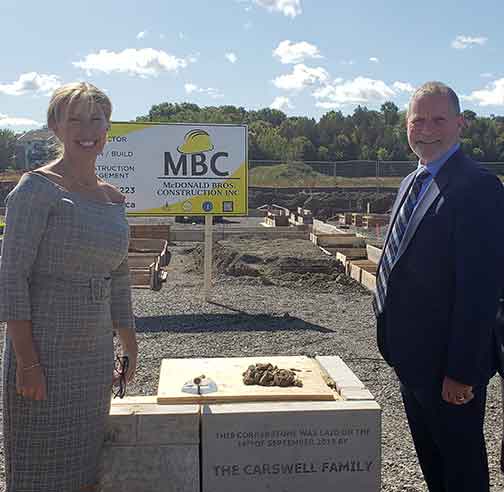 The announcement was made at the Cornerstone Laying Ceremony for Veterans' House: the Andy Carswell Building, named after a 96-year-old WWII Canadian veteran who survived four wartime missions as a pilot and three years as a prisoner of war.
Capt(N) Paul A. Guindon (Ret'd), a 33-year Navy veteran and CEO of Commissionaires Ottawa Group, said, "Commissionaires Ottawa's social mandate includes a focus to support and give back to veterans. For the most vulnerable veterans who are homeless or at risk of becoming homeless, Veterans' House will help get them off the streets and into safe, stable and affordable housing. Whether they can eventually return to work or not, we want to do our part to show them their community cares and values their years of service to our country."
According to MHI, more than 600 Canadian Armed Forces veterans are living on the streets of Ottawa. Many of them are struggling with physical health, mental health and addiction issues.
Guindon said, "Beyond our commitment to create jobs for veterans, Commissionaires Ottawa has supported hundreds of military families through fundraising, sponsorships and donations. A few years ago, we donated $1M to the Perley Rideau Seniors Village, where 30% of assisted living apartments are reserved for veterans. At every stage of an active or former Canadian Armed Forces member's life, we will continue to find meaningful ways to support and give back to those who have served our country.
Commissionaires Ottawa is a private, not-for-profit security company headquartered in Ottawa that offers a diverse range of security solutions and manages the largest digital fingerprinting infrastructure in Canada. It has been a leading employer of former members of the Canadian Armed Forces and RCMP for 80 years, is active in assisting injured or ill Canadian Armed Forces personnel to transition to civilian life or return to active duty, and has a proud history of raising awareness and funds for military families.
Com-Net, Member of Commissionaires Ottawa Group and a fellow contributor to the donation, has emerged as one of Canada's leading systems integration companies—from security system installation and integration to communication infrastructure and IoT network convergence. Based in Canada's National Capital Region with offices in Montreal and Kingston, Com-Net has been involved in many large-scale projects such as the Centre Block Rehabilitation Project, TD Place, Carleton University and the LRT.
– 30 –
For media enquiries:
Andrée Paige
Media Relations
Commissionaires Ottawa
613-863-1828
[email protected]