February 17th, 2017
Ottawa, ON, February 17, 2017 – The Canadian Corps of Commissionaires has ranked among the top employers in Canada, according to Forbes' list of Canada's Best Employers of 2017.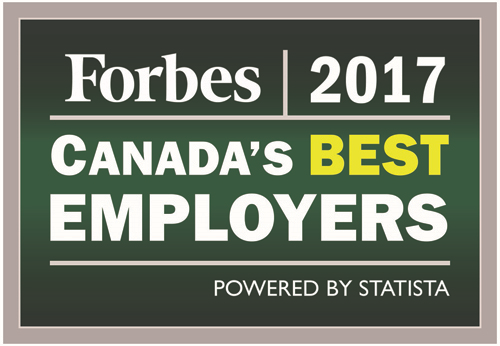 Commissionaires ranked second in the industry sector and placed in the top half of the 300 employers, outranking other Canadian security services providers by a wide margin.
"We work very hard to provide a great working environment and stable employment across Canada," said Bruce Belliveau, Chair of the National Business Management Committee, Commissionaires, and CEO of Commissionaires Nova Scotia. "Commissionaires is honoured to, once again, be recognized as one of Canada's top employers and the highest ranked security company."
Forbes partnered with online statistics provider Statista to survey more than 8,000 Canadian workers. The resulting list includes 300 employers across 25 industries. Canada's best employers include corporate giants, community-based financial institutions, universities and government agencies. The employees who took part in the survey were consulted anonymously through several online access panels rather than through their employers.
The workers surveyed were asked to identify, on a scale of zero to 10, how likely they were to recommend their employer to someone else and what they thought about the other employers in their industry.
You can see the full list www.forbes.com/canada-best-employers/list/#tab:rank
About the Forbes Survey
In collaboration with online statistics provider Statista, FORBES asked 8,000 Canadian employees – 81% full-timers – working for large firms or institutions to rate their willingness to recommend their own companies on a scale of 1 to 10. The employees who took part in the survey were consulted not via their employers but anonymously through several online access panels. Data was recorded this past September.
About Commissionaires
Commissionaires is Canada's premier security provider and the largest private sector employer of Canadian Armed Forces and RCMP veterans. Founded on the core military values of dedication, responsibility and sense of mission, it employs 20,000 people from coast to coast to coast. It offers a wide range of security services including professional guarding, monitoring and surveillance, threat risk assessment, non-core policing, by-law enforcement, digital fingerprinting, criminal and employee background screening, investigations, and security training. The completely self-funding, not-for-profit organization generates more than $500M in annual revenue, of which approximately 95% is returned to its employees. Its clients include a diverse range of public and private sector organizations.
Interview requests
Harry Harsch
Chief of Staff
Commissionaires National Office
Tel: 613-688-0711
Email: [email protected]