February 28th, 2023
As part of Nelson Mpondo's university requirements, he received the obligated military services training and a military diploma. This training is mandatory for anyone attending university in Cameroon. Trainees who show potential and skills are offered training in Saint-Cyr, France. Nelson met those criteria, though he turned down the opportunity, opting instead to move to Canada.
Nelson is a commissionaire and a devoted father and husband. While speaking with him on Valentine's Day, he was busy preparing a special dinner for his wife and children. "I work part-time so I can spend as much time with them."
Upon arrival in Canada, Nelson worked at a small security company. He learned about Commissionaires during a visit to a local passport office in Scarborough Town Centre. He recalls speaking to a nice commissionaire who asked him how long he had been in Canada and if he had any military experience. That inspired him to do some research into the company and, ultimately, apply. After what seemed like a long wait, Nelson received the call he had been waiting for… an interview. The interviewers were impressed by his professionalism and that he is bilingual. He began working with CGL in 2012 at a site on Front Street.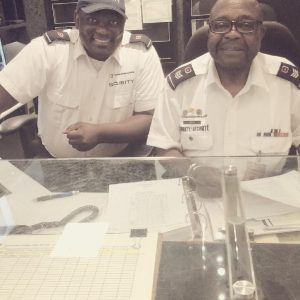 As part of the spares list, Nelson has the opportunity to work at many different sites and lend his bilingual skills to a variety of customers. He's also helped translate post orders while onsite and worked as a bilingual screener at HQ for a short period of time. Nelson also works fulltime as a Bilingual Special Constable for the Toronto Police Services.
His coworkers refer to him as punctual, a team player and having excellent customer service skills, all of which have led to him earning two Employee of the Year certificates.
"I love serving the people," Nelson told us. "From security to law enforcement, I have seen the impact we all have on everyday lives. Coming to the western world, there are so many opportunities. You can make it here and I want to lead as an example to anyone from my county."
Nelson takes great pride in his work and contributions, looking for ways to address problems with creative solutions. He recalls one site at which the client had issues with shift changes because the traffic flow caused employees to be late. Nelson arranged for some pylons and another guard to help direct traffic. The client was so thrilled with his quick thinking and willingness to bring a solution to the problem that they added the second guard position as a permanent shift at the site.
Nelson offers the following advice for our security workforce, "Join the company and be dedicated to your work. Be punctual. Remember, you are representing the company. There is room for growth here. You see all cultures represented in this company. It's the best security company in Canada."