November 11th, 2021
THIS ARTICLE WAS FIRST PUBLISHED BY THE CHRONICLE HERALD ON NOVEMBER 9, 2021
By Rebecca Brown
There's a time in everyone's life when they question their purpose. For Lloyd Houston, now a decorated military veteran, commissionaire, and the father of Nova Scotia's current Premier, that time came when he was age 16.
Feeling uninspired by school, Lloyd went looking for adventure and decided to join the Navy in 1961. He started as a boatswain, responsible for maintaining ships and their equipment. In 1965, Lloyd joined the aircrew as a sensor operator, working out of the back seat of airplanes. He would remain part of the Navy for almost 35 years.
He says the opportunity to travel overseas to places like Antigua, Hawaii and New Zealand was one of the best parts of military service.
"I think my dad is very modest about his service," says Premier Tim Houston, before turning to his father to continue. "I'm sure when you were away on missions, on a ship or a plane, representing Canada, it meant something to people around the world. That must have been a sense of pride for you. That's really what it's about, because I have that feeling now as Premier of the province."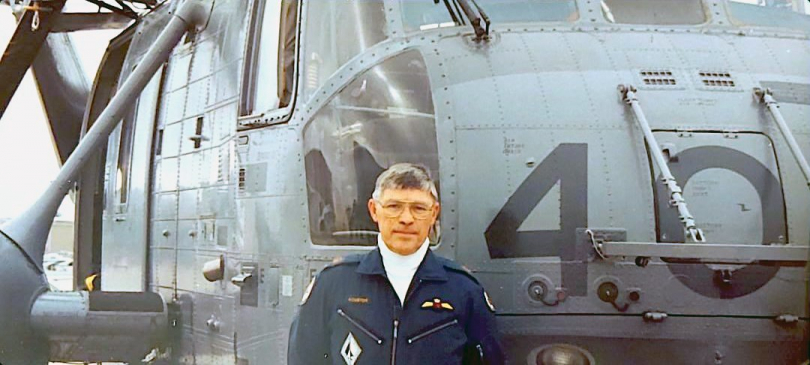 Lloyd Houston, the father of Premier Tim Houston, in the Helicopter Training Squadron 406 in Shearwater in the early 1990s. The photo was taken to recognize Lloyd's 10,000 hours of flight time.
While Lloyd's service took him around the globe, it took his young family across the country. His wife Sharon and their three children — Tim, his older sister, and younger brother— followed Lloyd when he was posted to bases in Summerside, P.E.I, Trenton, O.N. and Comox, B.C.
It wasn't until Lloyd's retirement posting to Shearwater that the family returned to Nova Scotia.
"Growing up on military bases, there's an incredible sense of family," says Premier Tim Houston. "My dad would be away for months at a time, so neighbours become really important as a support system."
The Premier says he relies on the strong sense of community he grew up with, as well as advice from his dad to "care about everyone." He says he applies that advice when making decisions, like those to tackle Nova Scotia's housing crisis, an issue that's affecting many — from homeowners, renters, and landlords to young people and the homeless.
"Decisions that I make will hurt people sometimes, but the intent is always to help people," says Premier Tim Houston. "You really can't please everyone, but you have to stay focused on the greater good."
Lloyd says his advice to "care about everyone" comes from his days in the military. He continues to live by the mantra in his second career as a security guard with Commissionaires, a national not-for-profit with a mandate to employ veterans and others who want to contribute to the safety and security of Canadians.
Lloyd has worked for the organization for nearly two decades, most of which he's spent guarding the Johnson Building, a government site down the street from the Premier's Office.
"I'm able to contribute, so I keep on doing it," says Lloyd, 76, about his service as a commissionaire.
One of the perks of the job for Lloyd is being able to see his son, who has been coming to the Johnson Building to use the government employee's gym since he was first elected MLA of Pictou East in 2013.
Back then, Lloyd says his son would occasionally ask to be let into the gym after-hours, aiming to fit a workout into his busy schedule. That didn't fly with the dedicated commissionaire, however.
"I actually had to get a special letter from the Minister at the time that allowed me to use the gym when I wanted to use it. I had to show that letter every time 'cause he's such a stickler for the rules, probably because of the military," says Premier Tim Houston, playfully elbowing his dad.
"I think the job that the commissionaires do is incredibly important and touches everyone in the government. We all know who the commissionaires are in this building or Province House, so it's good to see their smiling faces. It's a source of comfort, actually."
The father and son aren't the only ones in their family committed to service. The Premier's late brother, Todd, who died in 2018 of cancer, served eight years at the Canadian Border Services Agency. He considered himself a "Bouncer for Canada" after having spent almost two decades working the doors at Halifax bars. His badge rests in a frame on the Premier's desk.