October 20th, 2016
Two honoured with special commendations and 100+ honoured for long service
Minister of Veterans Affairs serves as Guest of Honour of Annual Awards Ceremony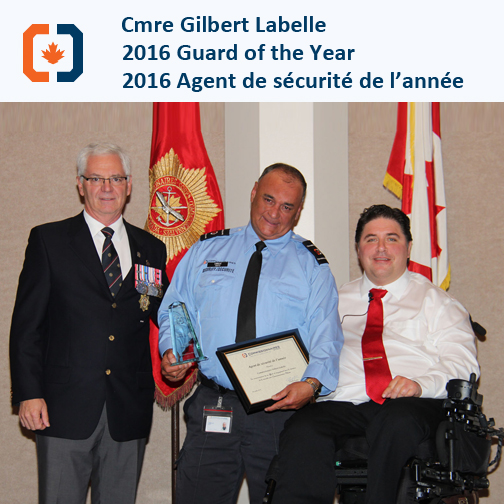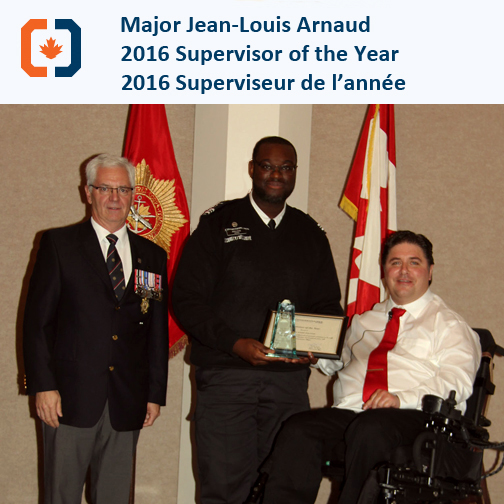 More than 100 employees of Commissionaires Ottawa, many of whom are military and RCMP veterans, were honoured on 20 October 2016 with special commendations or long service medals. The awards ceremony was officiated by Captain (N) Paul A. Guindon (Ret'd), CEO of Commissionaires Ottawa and attended by company officials, clients, staff and family. The Guest of Honour was the Honourable Kent Hehr, Minister of Veterans Affairs and Associate Minister of National Defence.
During the ceremony, Major Jean-Louis Arnaud was named Supervisor of the Year and Cmre Gilbert Labelle was named Guard of the Year. Another 114 commissionaires received long service medals for 12, 17, 22, 27, 30 and 35 years of service.
CEO Paul Guindon said, "When you ask commissionaires why they stay with us for a decade or more, many will tell you it's all about the people. There is camaraderie amongst men and women who have served their country. Commissionaires share qualities of dedication, trust, loyalty and honesty. Our uniform represents discipline, vigilance, training and professionalism."
The Honourable Kent Hehr assisted with most of the medal presentations, interacting with recipients as they walked the stage while ensuring family members had enough time to snap photos of their loved ones receiving their award. He also made a moving presentation during the ceremony.
Hehr said, "The Corps of Commissionaires provides opportunities for veterans to apply the knowledge, skills and discipline they developed in the Canadian Armed Forces. I have come to learn just how important is it for veterans to find a new normal after service and I commend you for providing thousands of meaningful employment opportunities to veterans across Canada."
Guindon added, "For every dollar we spend, over 96 cents flow back to our employees in the form of salaries, benefits and training. In a world where job and career changes are so common, our company is proud of its ability to attract and retain such a large number of reliable, highly-skilled security professionals. Our award recipients are truly deserving of recognition for their many years of loyalty and service excellence."
About Commissionaires Ottawa:
Among the largest private sector employers in the National Capital Region, Commissionaires Ottawa employs about 4,000 commissionaires contracted at hundreds of client sites in Ottawa, Gatineau, the Ottawa Valley, throughout Northern Ontario and also in parts of Southwestern Ontario and Northwestern Quebec. The private security company offers a comprehensive range of digital fingerprinting and criminal background check services, enforcement and non-core police services, investigations and threat risk assessments, and a full suite of security solutions. Commissionaires Ottawa is dedicated to providing meaningful employment opportunities to those making the transition to civilian life after active service in the Canadian Armed Forces and RCMP. It also hires qualified, security-focused citizens of all ages and from all walks of life who share a passion to safeguard their fellow Canadians. Since 1939, the company has hired more than 25,000 employees, many of them veterans.
For further information, please contact:
Andrée Paige
Communications and Media Relations, Commissionaires Ottawa
[email protected]
Cell: 613-863-1828