May 31st, 2023
Highlighting members of our team in our monthly newsletter has been one of my favourite tasks. Each month I chat with commissionaires who have amazing stories and come from all walks of life and bring a broad range of skills and experiences. Our people truly make our division incredible.
Take Nashwa Faltas, for example. It's clear why Nashwa is in her role. She exudes leadership and customer service in her role as a site supervisor overseeing a team at Karmax Heavy Stamping—working gates and inspecting trucks that come in and out of the factory to deliver materials for the manufacture of car parts. Her team also handles site emergencies, calling 911 and administering CPR if needed.
The work at KARMAX is fast-paced and keeps Nashwa busy. She always looks for ways to be more efficient and support her staff. "Communication is key to our team's success," she said. "Everyone is helpful and works well together."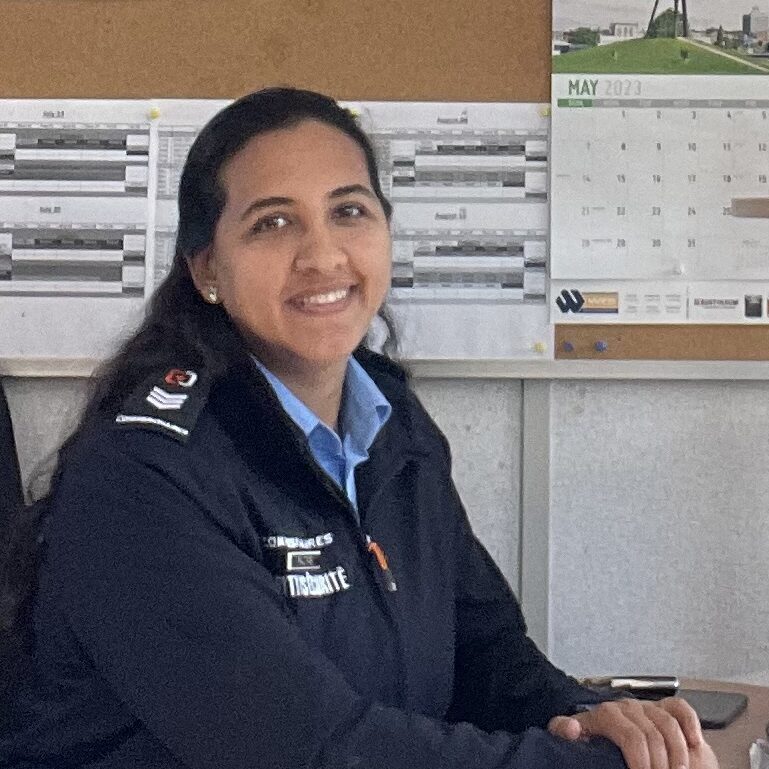 "Nashwa is one of the most trustworthy people I know. I can't say enough about her ability to do her job, and KARMAX is a safer place with her here," Lormer McGinn (Head of Security for KARMAX) told us.
Nashwa has a passion for helping people. She was a pharmacist in Egypt before emigrating to Canada. She opted out of doing her equivalency test because she felt the pharmacy industry was changing and her skills would be better suited elsewhere. She started as a security guard with Commissionaires in 2015: "I just wanted to get my foot in the door and make some money to save and return to school."
When Nashwa isn't fulfilling her responsibilities at Commissionaires Great Lakes, you can find her working part-time at a local pharmacy and studying for her Human Resources Certificate at York University. She loves Canada's summers though she is still trying to get accustomed to our winters. "Thank goodness my Commissionaires winter jacket keeps me warm while outside inspecting the trucks."
Regional Manager Russell Dalton adds that "Nashwa is a great employee, supervisor, and role model for her staff. She has repeatedly shown that she loves her job and staff, and her teamwork adds to the already great job. If anyone wants to know the definition of a commissionaire, they only have to look at Nashwa, and the answer will be clear."
Thank you, Nashwa, for being a shining example for your staff and a valued leader for our client. Good luck with your studies.