November 10th, 2021
Remembrance Day, originally called Armistice Day, is recognized by Canadians every 11 November, and is a time to recognize the sacrifices of all those who served and continue to serve our Nation.
The origins of Commissionaires dates back to February 1859 when former Crimean War veteran and retired officer of the 8th Hussars Captain Edward Walter founded the Corps of Commissionaires in England in February 1859. The Canadian Corps of Commissionaires was eventually founded in 1925, specifically to employ Canadian veterans of the First World War.
At Commissionaires we understand that the service we provide is only as good as our people. By continually investing in our employees, we ensure that we have the very best on the job. As an organization with a 96-year history of supporting veterans, we have had the opportunity to employ some incredible people.
Today, we'd like to spotlight a special individual, Sergeant Major Colin Fraser Barron, born on 20 September 1893 in Scotland. Barron, a former commissionaire, was among the Commonwealth holders of the Victoria Cross.
In March 1910, Barron emigrated to Canada where he was a Toronto railway worker. In May 1913 he began his military service by enlisting in the 48th highlanders militia unit, he was posted to the 35th Battalion and on July 31, 1915 he joined the 3rd (Toronto) Battalion.
On November 6, 1917, the Canadian First Division were facing the enemy strong points along the main ridge north-west of Passchendaele with the aim of taking Vine Cottage, one of the largest pillboxes(blockhouse) in the sector. The Division was driven back before they could get within bombing range, but Cpl Colin Barron carried on and managed to get close enough to overrun Vine Cottage's three machine-gun crews. For these actions, he was awarded the Victoria Cross.
"For conspicuous bravery when in attack his unit was held up by three machine-guns. Corpl. Barron opened on them from a flank at point-blank range, rushed the enemy guns single-handed, killed four of the crew, and captured the remainder. He then, with remarkable initiative and skill, turned one of the captured guns on the retiring enemy, causing them severe casualties.
The remarkable dash and determination displayed by this N.C.O. in rushing the guns produced far-reaching results, and enabled the advance to be continued."
(London Gazette, no.30471, 11 January 1918)
In April 1919, he returned to Canada and was demobilized, but re-enlisted in the 48th Highlanders of Canada from 1921- 1931. He pursued a variety of service positions; including serving with the Kitchener, Orangeville, and Niagara Falls Provincial Police.
During the Second World War, Barron served with the Royal Regiment of Canada and ultimately retired as a Lieutenant. He then joined our organization; Serving in the Great Lakes Division of the Corps of Commissionaires. He serviced several different posts including the Canadian Broadcasting Corporation, the Old Don Jail, and Sunnybrook Hospital.
Sergeant Major Colin Fraser Barron passed away on August 15, 1958 in Toronto and was buried in the Toronto Prospect Cemetery Veteran's Plot.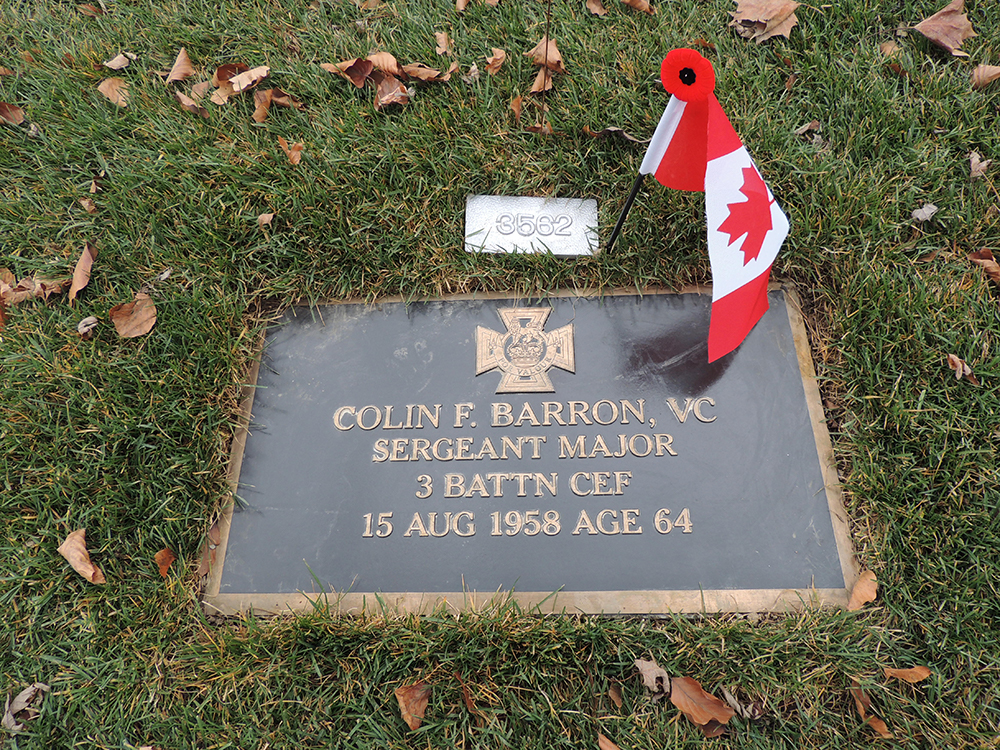 PHOTO: The Queen's Own Rifles of Canada Regimental Museum and Archive.
Thank you, #WeSaluteYourService
As we commemorate Remembrance Day, one of the best ways to honour today's veterans for their sacrifice and service, is to provide them with meaningful employment. Since 1925, we have been providing meaningful employment for veterans as they make the transition from the Canadian Armed Forces to civilian life. With 15 divisions and more than 20,000 men and women employed across the country, Commissionaires is a leading national provider of security services, and one of the largest employers of veterans in Canada.
We are proud of our rich heritage and endeavour to combine the experience of the past with the needs of the present to give an unrivalled level of service that always delivers satisfaction and value for money. It's why our customers stay with us and our employees are proud to work for us.
Join us in helping veterans every day, not just Remembrance Day.
References:
https://www.canada.ca/en/department-national-defence/services/medals/victoria-cross-recipients/colin-fraser-barron.html