June 20th, 2023
Commissionaires, military officers, and business leaders took part in the Soldier On Atlantic Golf Invitational to support the Canadian Armed Forces program
For many, this year's Soldier On Atlantic Golf Invitational was a hole-in-one. The annual charity golf event raised $40,000 for Soldier On, a Canadian Armed Forces program that helps serving members and veterans overcome their physical and mental health injuries through sports, recreational and creative activities.
The event took place on June 14, 2023, at Riverside Country Club in Rothesay, NB. Eighteen teams, consisting of leaders from Atlantic Canada's business community and the public sector, participated in the tournament. Each team included one injured veteran from the Soldier On program.
One of the largest supporters of the event was Commissionaires, a national not-for-profit security provider dedicated to offering meaningful employment to veterans of the Canadian Armed Forces and RCMP, their families, and anyone else who wants to contribute to the security and well-being of Canadians.
Commissionaires Canada and its New Brunswick & PEI Division gave $5,000 each, while the Nova Scotia and Newfoundland & Labrador Divisions gave $2,500 each, for a combined total of $15,000.
"Any opportunity to demonstrate our appreciation for those who risked their well-being to serve our country is worth our time and resources," said Jake Bell, Chair of the Board of Governors for Commissionaires NBPEI.
"I can't think of a better way to show our support for wounded soldiers than to fundraise and spend a day alongside them as teammates."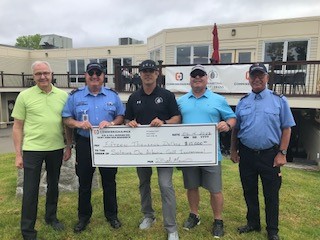 Adding to the excitement of the day, Canadian military equipment was on display for event attendees and the public to view and explore.
The Soldier On program supports people like Joe Kiraly, a former Chief Petty Officer who fell down a ladder on a ship at sea, injuring his back and neck. He spent the next four years in denial, suppressing chronic pain and masking increasing limitations to protect his all-important career.
His private physical battle brought about psychological turmoil, a spiral that ultimately landed Joe on the stern of a military warship, contemplating a final plunge into the ocean.
"Generally, life kind of fell apart. I was dealing with the guilt of being not hurt enough, so I didn't seek help," said Joe, who's now a Senior Manager at Soldier On.
"Solider On helped me turn the corner from a really dark place. After I realized I wasn't alone and committed to my recovery, I was able to start a new life for myself."
"We couldn't be as effective of a program and deliver as much direct support to Canada's ill and injured without assistance from sponsors like Commissionaires and TD Insurance."
Commissionaires thanks all of the sponsors, event contributors and participants for a wonderful day on the green.