October 31st, 2022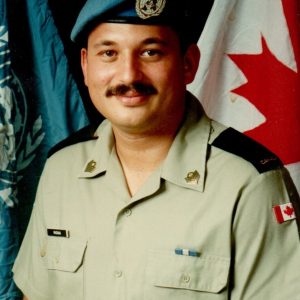 Commissionaires understands the value of a veteran. We know their dedicated skills and experience sets them apart. So, when Raymond Magnan retired from the CAF, he knew where his skillset would be best applied.
"I'd worked closely with commissionaires for years on different bases," Raymond reflected. "I applied [to CGL] but there wasn't anything available that didn't involve a long commute, so I asked them to keep me in mind if something came up."
That call did come when Raymond was working for another security company. CGL had an open position at the Oshawa Canadian Forces Recruiting Centre. He made the jump immediately. Raymond currently handles access control for the centre. He told us, "I love being around other military officers and being able to talk about the old days".
Originally from the United States, Raymond found himself intrigued when a Marine officer in a suit came to his high school and spoke about opportunities. "I knew at that moment that this was for me, so when we moved to Canada, I joined the CAF at just 19 years of age and never looked back."
Raymond served as a military police officer, starting as a patrol man in July 1979 and retiring as a Sergeant in March 2000. Along the way he worked in investigations and in the Special Investigations Unit (SIU) for a short time. He completed two tours and even did some work at the Polish Embassy.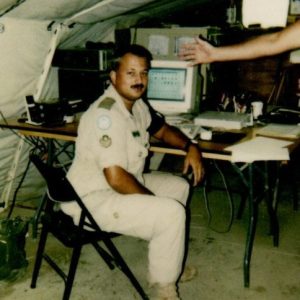 "In SIU, I got to do a lot of travelling—here today and back tomorrow. I loved travelling. I most enjoyed my time in Alberta and British Columbia. I worked at a radar station. I loved the mountains, being outdoors, and camping. The work and places I have gone always made me feel like I was part of a special community."
Some of his travels had a profound effect on him. He recounted that Auschwitz was eerie, noting, "there are just certain moments and smells you will never forget."
Since leaving the service, he has done loss prevention for the LCBO and did some close protection work for the Honourable Hilary Weston, Ontario's 26th Lieutenant Governor. "I got to stand about seven to eight feet from the Queen one day at a meeting. She even gave me a nod. It was a special day."
Outside of work, you can find Raymond woodworking and making furniture. "It was a learned hobby; I took a course in woodworking early on and built up my craft up. From bookcases to dressers, it's a real labour of love. I also love Halloween so I make decorations; I make it all spooky."