---
CEO Message: Two important updates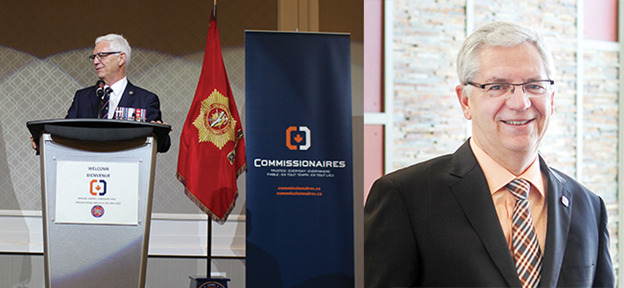 by Paul A. Guindon
CEO, Commissionaires Ottawa
ADGA joins Commissionaires Ottawa Group
In December 2021, Commissionaires Ottawa and ComNet Networks and Security Inc. welcomed ADGA Group into our growing family. With about 570 employees and independent contractors, the Canadian company designs, develops, fields, and supports command and control systems, including simulations systems for the Royal Canadian Navy, Canadian Army and Royal Canadian Air Force. ADGA Group is also engaged in software development and enterprise-wide digital transformation initiatives.
Note that apart from a change in ownership, ADGA Group's name and brand, office locations, and operations will remain. In essence, ADGA is joining Commissionaires Ottawa Group, which also has Commissionaires Ottawa and ComNet Networks and Security Inc. as members. Why ADGA Group and why now? Read the Our Growth article.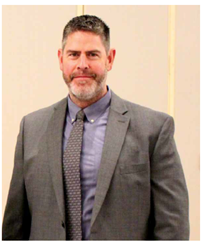 Welcome Kevin Wolfe, new General Manager at ComNet Networks and Security Inc.
We recently welcomed Kevin Wolfe, the new General Manager (GM) for our Canada-wide operation.
Kevin joins us with 20+ years of proven GM experience, including forecasting, strategic planning, change agility, growth management, and employee relations.
Since 2011, he was the Ottawa-region GM for Freeman, a leading global event agency. His responsibilities as GM included leadership of all aspects of operations while supervising a team of 120+ employees.
From travelling between cities and offices, to rallying our office and technician teams for meetings and events, Kevin already is proving to be an asset in the day-to-day operations of ComNet. He has also announced forthcoming incentives and projects, such as savings achieved for employees (e.g. mobile, home and auto insurance, banking and mortgage), as well as an Employee Intranet to be launched in early fall.
---
Our Growth: Why is Commissionaires Ottawa acquiring companies?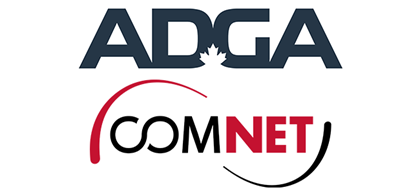 Many of our commissionaires contribute to frontline and behind-the-scenes security solutions, including: access/egress, vehicle and foot patrols, surveillance, alarm response, etc. Commissionaires also provide "More Than Security"—from workplace investigations and threat risk assessments, to an extensive range of fingerprinting and background screening services. And now, we've taken "More Than Security" to a whole new level!
Why did Commissionaires Ottawa acquire ADGA?
To offer our clients a greater number and variety of services, such as Advanced Technology Solutions fulfilling the information management, communications, and integrated security requirements in the defence and public safety markets.
To offer our existing and future employees access to a greater number and variety of job opportunities and internal competitions across Canada, such as: electronics technicians, business analysts, warranty analysts, business/ systems architects, network security engineers, IM/IT specialists, lifecycle material management specialists, project managers/ leads, and many other positions related to cyber/physical security integration, simulation solutions and software solutions.
Why did Commissionaires Ottawa acquire a group of companies now known as ComNet Networks and Security Inc.?
To offer our clients a greater number and variety of services, such as: IoT network convergence (voice, data, video), security systems installations and integration, engineering and design, and infrastructure management.
To offer our existing and future employees access to a greater number and variety of job opportunities and internal competitions available in Ottawa, Montreal, Kingston and the Greater Toronto Area (GTA), such as: network IoT technicians, systems security technicians, and various supervisory, management and office positions.
What VALUE do these acquisitions bring?
Together, our three 100% Canadian owned and operated companies offer a FULL SPECTRUM of cyber, electronic, physical, and personnel security solutions. Work with one of us, and this opens the door to work with any of us.
The same applies to employment opportunities across all three companies: we want to make it easier for YOU to explore and access career advancement opportunities.
What unites our three companies?
We honour and support veterans, their families and fellow Canadians who share their values, by creating meaningful employment opportunities for them. We also promote and support programs, community initiatives and causes that enhance the well-being of veterans and their families.
We are proudly Canadian, and privately owned and operated.
We are established, stable and growing rapidly.
We value our customers, who turn to us repeatedly for exceptional service delivery.
We invest in our communities by supporting worthy causes. Our employees lead, join, sponsor, and support various community events and initiatives throughout the year—many of them related to giving back to veterans, active personnel in service, and their families.
---
Heaping Praise for our Distinguished Award Recipients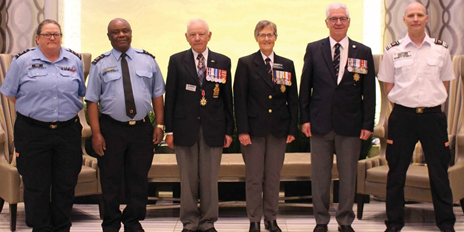 After a two-year hiatus due to COVID restrictions, and a postponement due to the wind storm in May, we were thrilled to welcome people back to an in-person awards ceremony!
Held on 7 June 2022 at the Infinity Convention Centre in Ottawa, we welcomed award recipients to thank them for everything they've done for Commissionaires Ottawa and their communities. We especially would like to honour the recipients of the following awards: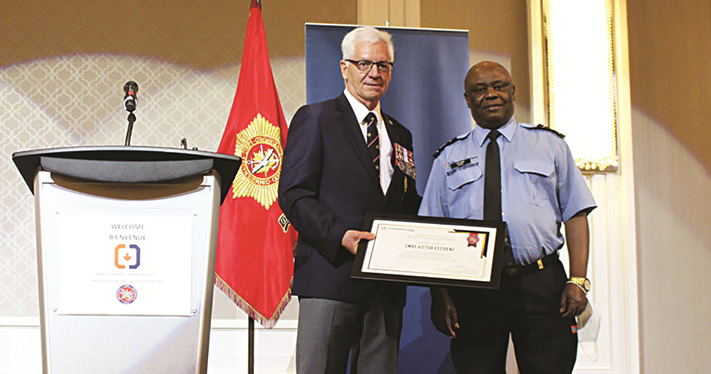 Guard of the Year Award: Cmre Victor Estigene, Section 94, Ottawa: This award recognizes the exceptional commitment to job performance, teamwork and customer service every day. Victor is a security operations centre (SOC) operator at the Canadian Museum of Nature. His service there goes back about 18-19 years, but we were fortunate to welcome him as a commissionaire—one of our own—since March 2019. Quite fitting for a museum of nature, Victor has grown and thrived within the ecosystem of the building and its people. Outside of the SOC, Victor has supported our client as a patroller, a receptionist, and an ID card technician. He is cross-trained on all security posts in the building and has cross-trained new guards for those posts. Victor, we value your experience, your dedication, your honesty, loyalty and integrity.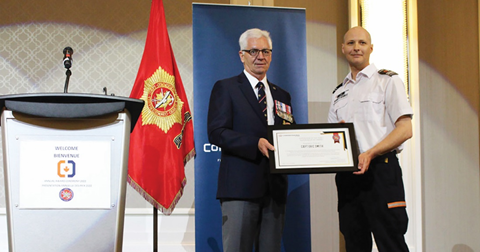 Supervisor of the Year Award: Capt Eric Smith, Section 10, Ottawa. This award recognizes outstanding achievement of duty by a supervisor. Capt Eric Smith first joined Commissionaires Ottawa in 2012, bringing with him distinguished experience. He is a former member of the Governor General's Foot Guards, with skills in the professional trades such as maritime drilling, drywalling and framing.
Eric has poured that experience into his career at Commissionaires, demonstrating leadership from the get-go. Eric was deployed to a contract overseas where he was a shift supervisor at a construction site and worked as a supervisor at a government site. Since 2019, he has been our supervisor par excellence at RCMP headquarters, overseeing well over 100 commissionaires. Eric is so highly regarded, that we received 18 letters of commendation! This is beyond certificates of recognition from the RCMP for grace under pressure, in 2019, and for team leadership, in 2021. Furthermore, in 2021, from among tens of thousands of security professionals working in Ontario, the Association of Professional Security Agencies (APSA) selected Eric as Ontario's Supervisor of the Year. At the Canadian Corps of Commissionaires, nationally, Eric was also named Supervisor of the Year.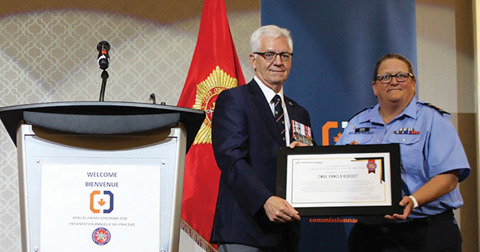 CEO Commendation: Cmre Pamela Rideout, Section 91, Ottawa. This award recognizes outstanding achievements such as customer service excellence and the provision of services going way beyond the normal performance of duty. Pamela was pulling into the parking lot at a respite centre to begin her shift when she noticed a disturbance at the back of the building and immediately went to investigate. Two men were shouting and another was unresponsive on the ground. Pamela secured the scene, and directed bystanders to call 911 and get more help from inside the arena. The man was not breathing and did not have a pulse, so she went to work quickly to try to revive him. Determining the man's condition was the result of an overdose, Pamela administered a dose of a medication, performed chest compressions, administered a second dose, and continued first aid care. By the time ambulances arrived, the man was breathing again. The City of Ottawa, our client, has high praise for Pamela in all that she does: from how clear and concise her reports are, to her being a strong, reliable and effective security guard.
To view a video and a full photo gallery of the awards ceremony, as well as a full list of all the long service award recipients, please visit the Annual Awards Ceremony page.
---
Our Next Awards Ceremony is 13 October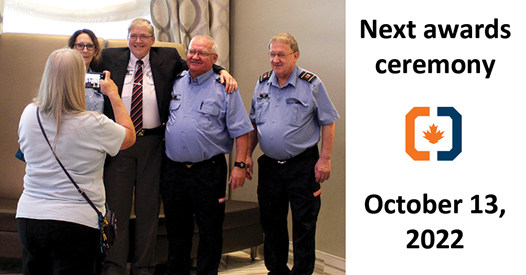 When: 3:00 p.m., 13 October 2022.
Where: Infinity Convention Centre, 2901 Gibford Drive, Ottawa
Award recipients and their families are invited!
One of the proudest traditions in our company is the Annual Awards Ceremony. Among our honoured guests are the Central Band of the Canadian Armed Forces, a guest of honour from the community, a featured singer, our Board of Directors, key clients, HQ personnel, and award-winning commissionaires from across the company.
Combining military tradition with modern-day elegance, the first part of the ceremony includes a one-hour, graduation-style ceremony to honour long service and special award recipients. Join us
to experience a few seconds on the stage and in the spotlight! In addition to your medal or ribbon, we will present you with a monetary award and send you a photo taken by a professional photographer.
Your family and colleagues will be encouraged to cheer, take photos or video, and join you afterwards for a couple of hours in a chandelier setting for delicious appetizers and drinks.
If you have dedicated 12 years of service or more, and are contacted with an invitation to attend, be sure to RSVP for yourself and your family or colleagues. We want to celebrate YOU!
---
A Welcome Home to Remember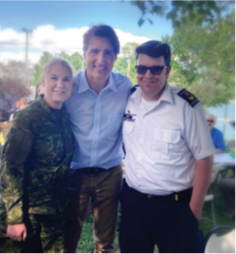 On 6 July 2022, Prime Minister Justin Trudeau made a surprise visit to 22 Wing in North Bay. The Royal Canadian Airforce base is across the road from the Jack Garland Airport, where a number of our commissionaires are posted.
Cmre Site Supervisor at Jack Garland Airport, Sgt Martin Durkin and his wife, active Royal Canadian Airforce member Cpl Kelly Bacon, were invited to attend a barbeque after work to meet the PM. This meet and greet was part of a thank you from Prime Minister Trudeau to all Canadian Armed Forces members and their families in North Bay, recognizing their past two years of service— especially during the COVID pandemic.
Cpl Kelly Bacon recently returned from a six-month deployment to Egypt. On behalf of everyone at Commissionaires, thank you for your service and what a memorable welcome home!
---
Communication is key – Meet the New "AGILE" Team!
Effective 1 April, 2022, a new Communications and Marketing department was launched to support Commissionaires Ottawa, ComNet Networks and Security Inc., and ADGA ("Commissionaires Ottawa Group"). Reporting to the CEO, the department is structured to be agile and adaptable to the unique and evolving needs of each company.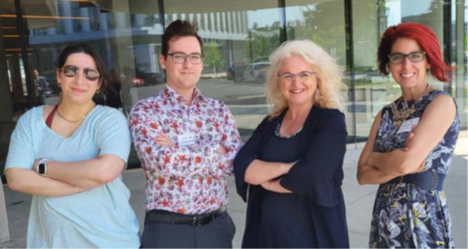 The Communications and Marketing team's specific areas of focus are:
internal communications
executive and corporate communications
business community partnerships
media relations
corporate storytelling
issues and crisis management
social media management
content and content marketing
corporate philanthropy and sponsor relationships
data analysis
creative direction and management of visual assets (brand, graphics, photos, video)
Most importantly, our team is here for YOU, to get you information and content through multiple channels. The team will be making ongoing improvements and optimizations this year—from a revamp of the Employee Intranet, to increasing our presence on social media. The team will also be capturing content that celebrate our people.
Meet the team:
Andrée Paige, Director, Communications and Marketing – Fluently bilingual, Andrée comes to us with 30 years of experience in integrated communications and marketing, 22 of them as an entrepreneur. Prior to joining us as a director in January 2022, Commissionaires Ottawa and ComNet were already clients and she also provided support during the pre-acquisition of ADGA.
Vincent Couture, Communications and Marketing Coordinator – As a fluently bilingual consultant who has now joined us full-time, Vincent is a versatile jack-of-all-trades with expertise in operations, project coordination, as well as channel and content optimization. Reporting to Andrée and Commissionaires Ottawa Group, Vincent coordinates the day-to-day operations of the department, including marketing projects, communications initiatives and programs, market research, work processes and systems, databases and inventory, monitoring and tracking, analytics, and translation management/proofing.
Rebecca Hatton, Senior Communications & Marketing Specialist – Since joining ADGA in October 2021, Rebecca has navigated a website launch, rebranding, an acquisition, and expanded responsibilities. Reporting to Andrée and Commissionaires Ottawa Group, Rebecca crafts and edits content, contributes to strategies and project management, and is now the lead for Communiqué magazine! In past roles, Rebecca has been responsible for local, domestic and international tradeshows, most recently, CANSEC held in Ottawa in early June. She has written and worked with journalists for press conferences and reporters for defence magazines.
Coleen Stewart, R.G.D., Senior Multimedia Creative Designer – As ADGA's Senior Graphic Designer since August 2018, Coleen was promoted to the role of Senior Multimedia Creative Designer for all three companies to better reflect her experience and expertise with multiple media, platforms and channels. She oversees visual assets and design solutions, ensuring the branding and design features of each multimedia project or campaign are in alignment with the department's communications and marketing strategies.
Welcome to the team everyone!
---
Protecting Those Who Protect the Environment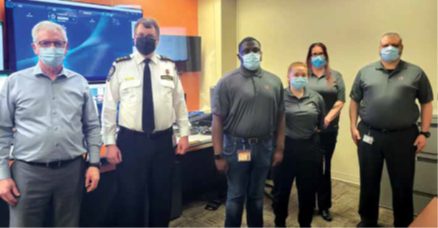 At Commissionaires, we work on many different kinds of projects, including a recently launched special project operating out of our HQ location. Our client is Environment and Climate Change Canada (ECCC), whose Enforcement Branch is responsible for the protection and conservation of the environment and wildlife.
The Enforcement Branch not only participates in the development of federal acts and regulations as they pertain to environmental and wildlife enforcement, it also deploys officers across Canada to enforce environmental and wildlife laws.
In December 2021, we went live with a state-of-the-art monitoring and communications system located at our Ottawa HQ. In a controlled, secure dispatch centre, a group of commissionaires tracks and communicates with in-the-field ECCC enforcement officers in real time. They also liaise with operational managers and regional directors at the ECCC.
Whether the enforcement officers are deployed within city limits or in rural and remote locations, our commissionaires are their first point of contact if they have questions, need backup, or require emergency assistance. It's an added measure of protection and peace of mind, especially if they are alone or "out in the middle of nowhere."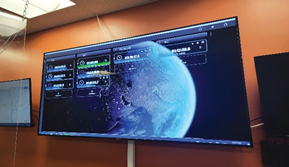 Currently, the service territories being covered include British Columbia, Ontario, Quebec, and Newfoundland-Labrador.
Reporting to Kurt Butt, Field Service Supervisor, commissionaires working shifts in the dispatch centre include:
Claude Barrette* – Shift lead
Abdel Keita – Shift lead
Keiffer Dufour*
Cody Lapierre
Meghan Sindall
Mahad Souleiman*
*cross-trained on Dispatch
In April 2022, our contract was renewed. Later that month, we welcomed Sheldon Jordan, Director General, Wildlife Enforcement, ECCC; and Cheryl McIntyre, Strategic Communications Advisor, Communications Branch, ECCC for a tour of the control room. Sheldon toured the dispatch centre shortly before his retirement and we are grateful for his involvement, and that of his colleagues, to get this special project up and running.
---
Group RRSPs … Are you missing out on doubling your contributions for free?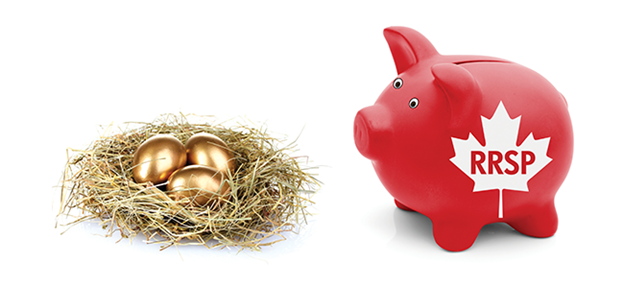 Information about what to do with our finances and savings bombard us from all corners—through the news, financial sections of magazines and newspapers, podcasts, and people we know. Sometimes, this information can be overwhelming or confusing.
While Commissionaires Ottawa does not give out financial advice (we like to leave that to the professionals and experts!) we did want to remind you that we have a Registered Retired Savings Plan (RRSP) program.
The benefits:
We match 100% of your contribution up to 2.5% of your salary. That means every dollar you contribute to your future, we are also contributing a dollar to your future. If you contribute $1,000, we contribute $1,000. It's one of the ways we invest in our people.
We make registering for this plan very easy for you. We set up an automatic payroll deduction while you can watch your RRSP savings grow.
RRSPs are "tax deferred contributions." When tax season comes around,
your contributions will be taken into consideration, which may result in a deduction to the amount of taxes owed.
If you are over the age of 71 and not eligible to participate in an RRSP plan, you may be interested in a Matching Tax Free Savings Account (TFSA) Plan through Commissionaires Ottawa. Note that employees under 71 may take advantage of the TFSA for additional (unmatched) contributions.
If you have questions about our RRSP or TFSA plans, or what kinds of other plans may be right for you, our partner Desjardins Financial Security Life Insurance Company guarantees competitive investment management fees. Additionally, they have experts who can go through your unique circumstances and help you pick plans and programs at any stage of your career.
We match 100% of your contribution up to 2.5% of your salary. That means every dollar you contribute to your future, we are also contributing a dollar to your future."
You can also check the status of your claim and RRSP balance any time you wish. Go to the Desjardins website to set up a user account. Please contact the ESC if you need assistance.
For more information on RRSP and TFSA, please see the enrollment guides on the Benefits page.
---
3 Incentives for Commissionaires Ottawa, ComNet and ADGA employees!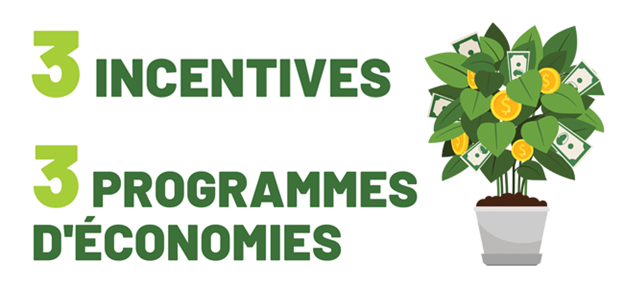 Did you know that all employees of Commissionaires Ottawa, ComNet and ADGA have access to the following incentives?
With Bell's Exclusive Partner Program (EPP), employees can register for amazing savings on phones and plans. Visit Bell.ca/epp to learn more or contact our dedicated Bell Account Manager, Antonio Colella, [email protected], 1 514 702 0202. Note that when searching for the company name, use "Commissionaires Ottawa" (even if you are with ComNet or ADGA) and once you register, your @commissionaires-ottawa.on.ca, @com-net.ca or @adga.ca email address will be recognized as eligible for these savings. If you have issues registering, please contact Antonio.
BANKING AND MORTGAGE SAVINGS:
Learn more about exclusive offers for banking and mortgages every month via the BMO Bank at Work Hub. Our BMO banking contact: Mike Maccarrone, [email protected], 1 226 749 4128. Our BMO mortgage contact: Shuang Liang, [email protected], 613 986 5186.
HOME AND AUTO INSURANCE SAVINGS:
Commissionaires has partnered with The Personal (insurance company) to offer exclusive rates on home and auto insurance to our employees and their family members.
---

Spotlight on ComNet
New Company Uniforms for Technicians
Last fall, ComNet introduced a new field technician uniform. Every field technician received a free issue that included pants, t-shirts, golf shirts, hoodies, three-season reversible jackets, ball caps, and tuques. Additionally, field technicians have a footwear allocation.
New Vehicles
In recent months, ComNet purchased 10 new vehicles, with more to come over the next year. These vehicles display the ComNet logo and corporate colours.
Employee Intranet (24/7 portal) — project in progress
The Communications and Marketing team is full speed ahead to launch a password-protected Employee Intranet with information, collaboration tools and access to internal competitions, forms, policies and procedures, resources and programs, certifications/re-certifications, contact information, news and updates, incentives at a glance, and much more.
The launch is planned for fall 2022, providing all ComNet employees with 24/7 access to up-to-date resources and information … soon only a swipe and click away.
Promotions and Hirings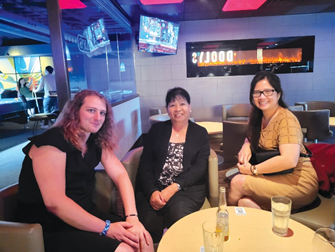 PROMOTED
Linda Schaffer in Ottawa was promoted to the role of Senior Accounting Supervisor in Accounts Payable.
Carolyn Positano in Kingston was promoted to Accounting Coordinator, working with Linda Schaffer on Accounts Payable, Mastercards, gas cards, Home Depot cards, and bank reconciliations.
Lahcene Ailas in Montreal was promoted to Project Coordinator IoT.
HIRED
Matthew Baril became ComNet's new Director of Sales.
Alex Akkara joined the GTA team as a Project Manager.
Ahmed Alsaleh joined the GTA team as an Estimator.
Arlene Lewis joined the Ajax office team as Administrative Assistant.
Baaba Acquah-Hayford joined the Ottawa team as an Estimator.
Lisa Courville joined the Ottawa team as Administrative Assistant.
Edelyn Walker joined the Ottawa team as Payroll and Benefits Admin
---
Spotlight on ADGA

Since acquiring ADGA in December 2021, the company has continued to be a strong presence in the defence, security and public safety sectors across Canada. Here are some updates about what the most recent member of Commissionaires Ottawa Group has been doing:
Bridging the gap to elevate women and Indigenous students
On International Women's Day 2022, ADGA announced it had signed a gift agreement with Algonquin College to elevate women and
Indigenous students who have career aspirations toward security, systems and networking, applied science and environmental technology, information and communication technology, and other advanced technology studies.
The ADGA Bursary will provide ten (10) $1,000 bursaries per year to students enrolled in any of the college's School of Advanced Technology programs—for a total of 50 bursary recipients over five years. The ADGA Bursary is open to students enrolled at the Ottawa, Pembroke, Perth and online campuses. It is open to Canadian citizens, landed immigrants, permanent residents, protected persons, and international students enrolled in School of Advanced Technology programs at Algonquin College.
The mission of Algonquin College of Applied Arts and Technology is to transform hopes and dreams into lifelong success. Algonquin College, an Ontario public sector community college, does this by offering hands-on, digitally connected, experiential learning in more than 185 programs. Based in the Ottawa Valley, Algonquin College is the largest polytechnic institute in Eastern Ontario.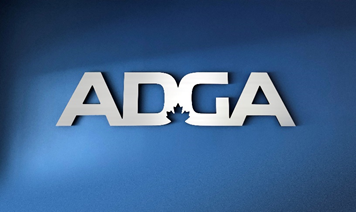 Keeping you and the Internet of Things (IoT) safer and more secure
The adoption and integration of Internet of Things (IoT) and Industrial Internet of Things (IIoT) devices has created an interconnected mesh of cyber-physical systems. The resulting security threats include hybrid attacks that target both physical and cyber assets. This is why, in March 2022, ADGA announced an agreement to work collaboratively with the Canadian Institute for Cybersecurity based at the University of New Brunswick in Fredericton.
This agreement will enable both organizations to work collaboratively on enhancing innovation through R&D cybersecurity projects to make Canada's critical infrastructure safer and more secure. The focus of this partnership is to develop a security framework for Canadian organizations to manage risks and challenges associated with converged security, and especially service and supply chain security—i.e. infrastructure, cybersecurity, integrated security, personnel security due diligence, processes, and information security.
The Canadian Institute for Cybersecurity (CIC) continues to play a key role in the field of cybersecurity research and innovation in Canada. The institute is a multidisciplinary and entrepreneurial training, research, and development organization whose knowledge base draws on the expertise of researchers from the social sciences, business, computer science, engineering, law, and science in general. The CIC is hosted by the University of New Brunswick's Fredericton campus. It is the first organization of its kind to bring together researchers and practitioners from across the academic spectrum, and professionals who seek to share ideas on cybersecurity challenges.
FORC3: ADGA teaming with Rheinmetall, Lockheed and others for LVCTS project
The partnership between Rheinmetall and Lockheed Martin in pursuit of the Canadian Army's Land Vehicle Crew Training System (LVCTS) project has a new name—FORC3—and a lineup of Canadian suppliers to fulfill its mission.
First announced in June 2020, the strategic partnership, led by Rheinmetall Canada, includes Lockheed Martin Canada, Rheinmetall Electronics (Bremen, Germany), and Lockheed Martin Training and Logistics Solutions (Orlando, Florida). The agreement created an international alliance with unrivalled experience and expertise in the design, development, and implementation of world-class combat vehicle virtual simulation centres used by Canada's most important allies.
Together with the leading Canadian defence, service, infrastructure, and simulation companies, FORC3 has secured the domestic capabilities to build and operate five state-of-the-art LVCTS simulation centres across the country.
The Canadian team comprises Rheinmetall Canada (Saint-Jean-sur-Richelieu), Lockheed Martin Canada (Ottawa), the ADGA (Ottawa), Bluedrop Training and Simulation (Halifax), EllisDon Construction and Building Services (London), Paladin AI (Montreal), and REDspace Incorporated (Halifax).
CANSEC 2022:
Back after a two-year hiatus!
The largest defence tradeshow in Canada happened in early June 2022 after a two-year hiatus! As a long-time exhibitor, this year ADGA chose to display and offer demos for:
Fully Reconfigurable Desktop Simulator Framework (FULCON)
AMARI (a machine learning artificial intelligence that can help with geographic location).
Our CEO Paul Guindon, members of our Communications and Marketing team, and other senior executive members met with government officials at the booth and held meetings with other companies. It was a great comeback after two years without CANSEC and we look forward to seeing ADGA at future iterations of CANSEC—and other tradeshows such as DEFSEC, to be held this fall in Halifax, Nova Scotia.
---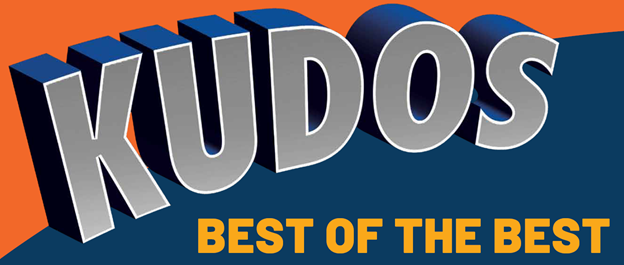 Kudos: Best of the Best
The following commissionaires have been commended for excellence in customer service, utmost professionalism to their duties, and/or exceptional response in crisis situations. Full versions of their kudos are posted on our Employee Intranet on the 2021-2022 KUDOS page:
Cmre Marc-André Parent, Section 20, Ottawa
Cmre Kim Hautzer, Section 91, Ottawa
Cmre Zachary Lebel, Section 26, Ottawa
Cmre Anthony McCoy, Section 72, North Bay
Cmre Brent Beriault, Section 6, Ottawa
Cmre Joey King, Section 91, Ottawa
Cmre Roger Laurin, Section 75, Sudbury
Cmre Yudvir Singh, Section 76, Timmins
Cmre Corey Prévost, Section 23, Ottawa
Cmres Michel Therien, Megan Gilbert and Harry McAdam, Section 16, Ottawa
Lt François Béland and Cmre Carl Guévremont-Perry, Section 94, Ottawa
Cmre Sean Larin, Section 127B, Ottawa
Cmre Jerry Firlotte, Section 72, North Bay
WO / Adj Malanding Sane, Section 52, Gatineau
Cmre Pamela Rideout, Section 91
Capt Larry Lepage and Cmres Elizabeth Trottier-Chartrand, Yannick Girard and Maxime Lavictoire, Section 135, Gatineau
Cpl Georges Wilmot, Section 10, Ottawa
Cmre Luc Bergeron, Section 26, Ottawa
Cmre Glen Collins, Section 10, Ottawa
Cmre Angie Biricombe, Section 72, North Bay
Cmre Paul Warman, Section 82, Ottawa
MWO / Adjum Robert Lavallée, Section 72, North Bay
Cmre Bernard McNicholl, Section 91, Ottawa
Cmre Asia Faugere, Section 190, Ottawa
Cmre Philip Mcknight, Section 16, Ottawa
Cmres Jason Ryan Gaines,
Haythem Hamid Ayoub, Karine Bouchard, Kajtya Alexandra Allen Chapman, Aidan Dextraze, Mahdi Elyas Elyas, Patricia Lynn McCallum, Section 91, Ottawa
Cmres Daniel Diaz, Frank Kacur, and
Thomas Kearns , Section 128, Ottawa
Cmre Francine Boudreault-McGrath, Section 127, Ottawa
Cmre Josh Cronier-Burns, Section 72, North Bay
Cmre Melanie Friel, Section 75, Sudbury
Cmre Karen Goodwin, Section 72, North Bay
WO / Adj Sherry Bates, Section 73, Petawawa
Cmre Zachary Beaudoin, Section 72, North Bay
Cmre Lilian Roy, Section 16, Ottawa
Lt Brandon McCaig, Section 6, Ottawa
Cmre Lara Millward, Section 16, Ottawa
Cmre Victoria Daguenais, Section 91, Ottawa
Cmre Sylvie Friolet, Section 50, Ottawa
Don't have a login or password to the Employee Intranet? Don't miss out! Contact [email protected] to gain access.
---
Why Our Clients Love Us
5 stars Google reviews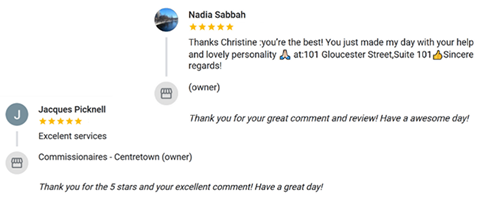 Jacques Picknell
Excellent services
Commissionaires – Centretown (owner)
Thank you for the 5 stars and your excellent comment! Have a great day!
Nadia Sabbah
Thanks Christine, you're the best! You just made my day with your help and lovely personality 🙏🏻 at 101 Gloucester Street, Suite 101👍Sincere regards!
Commissionaires – Ottawa (Nepean) (owner)
Thank you for your great comment and review! Have an awesome day!
---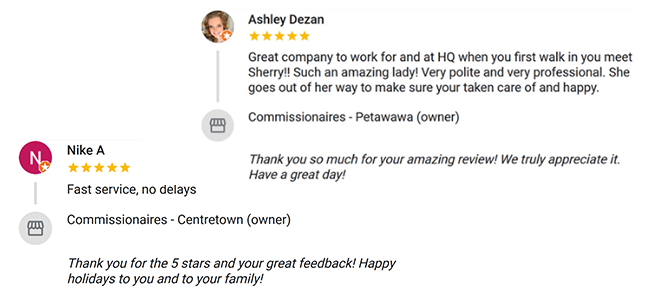 Ashley Dezan
Great company to work for and at HQ when you first walk in you meet Sherry!! Such an amazing lady! Very polite and very professional. She goes out of her way to make sure you're taken care of and happy.
Commissionaires – Petawawa (owner)
Thank you so much for your amazing review! We truly appreciate it. Have a great day!
Nike A
Fast service, no delays
Commissionaires – Centretown (owner)
Thank you for the 5 stars and your great feedback! Happy holidays to you and to your family!
---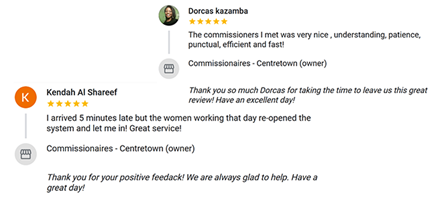 Kendah Al Shareef
I arrived 5 minutes late but the women working that day re-opened the system and let me in! Great service!
Commissionaires – Centretown (owner)
Thank you for your positive feedack! We are always glad to help. Have a great day!
Dorcas Kazamba
The commissioners I met was very nice, understanding, patience, punctual, efficient and fast!
Commissionaires – Centretown (owner)
Thank you so much Dorcas for taking the time to leave us this great review! Have an excellent day!
---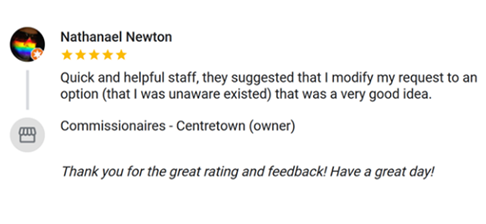 Nathanael Newton
Quick and helpful staff, they suggested that I modify my request to an option (that I was unaware existed) that was a very good idea.
Commissionaires – Centretown (owner)
Thank you for the great rating and feedback! Have a great day!
---
Special Profile: Section 72, North Bay Cmre Maurita Bedard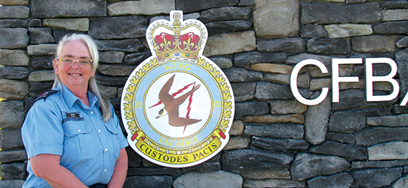 Cmre Maurita Bedard recognized with 20+ years of service
As the Single Quarters Commissionaire, Cmre Maurita Bedard is responsible for the scheduling and maintenance for Barrack Blocks 7 and 11 at 22 Wing/Canadian Forces Base North Bay. These barrack blocks accommodate both junior and senior personnel and can house up to 50 people per building. She is also responsible for six homes, designated for emergency and other uses. Additionally, she is the fire warden and building custodian. Maurita works with military and civilian personnel, members of the United States Air Force, Defence Construction Canada, and many others.
Since 2002, Maurita has held various roles at 22 Wing such as: Master Access Control Operator (MACS) monitoring the Underground Complex, MACS with the 22 Military Police Flight, and construction escort while the Sergeant David L. Pitcher Building was under construction.
"She is a dedicated, exemplary team-player," says her supervisor MWO Cmre Robert Lavallée. "Her knowledge and understanding of the job and her surroundings is astounding. It is an intense job but she does it in a calm and efficient manner."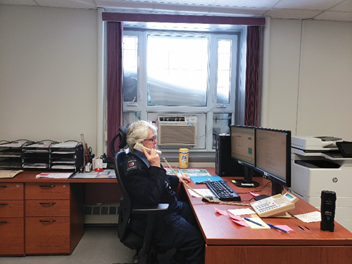 Maurita is incredibly proud to work at 22 Wing, home of the Canadian Air Defence Sector, which provides aerospace defence of Canada and North America as part of the NORAD mission. She is even more proud of the relationships and camaraderie she has built over the past 20 years with her military chain-of-command and her Commissionaires chain-of-command.
Maurita was highlighted in the March edition of The Shield Vol. 56, No.3, pg 7, published under the authority of the 22 Wing Commander. Every day, when putting on her Commissionaires uniform, Maurita also wears her General Service Medal she received while deployed to Afghanistan.
Our client, Warrant Officer Sandi Simon says, "Cmre Maurita Bedard has done an amazing job in the accommodation section. She always goes the extra mile to complete any task that is given to her. She is loved and supported by all staff and live-in members. Cmre Bedard always wants to help and she is definitely a big part of the accommodations team; always kind and considerate with all members. It is a pleasure to work with her at all times."
Thank you, Maurita, for everything you do for Commissionaires and 22 Wing. You have earned accolades that are a testament to how much you are appreciated.
---
In the Community – Helping However We Can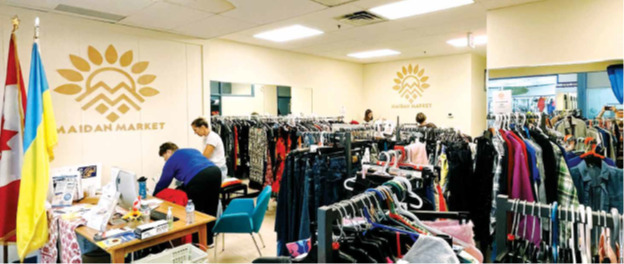 The ugly reality is that humanitarian crises happen daily. For generations, refugees have been coming to Canada from all over the world. While Canadians help through compassion, caring and support, we also need to be mindful of a few things:
Refugees may have experienced traumatic events that most of us cannot even imagine. Patience, empathy, kindness, and open mindedness are very important.
When refugees leave everything they know behind and try to make a better life for themselves and their families, they still long for home (e.g. the smell of food, routines, traditions, music).
Everyone deserves to have a sense of belonging, to know that when things are so overwhelming, there can be a safe space for them to gather, talk and help each other.
Within our employee community, we're aware that some have been volunteering or donating to bring the tastes, smells and sounds of "home" to new refugees.
One of those people is Janice Voth, from Commissionaires Ottawa. Janice first heard of Café Ukraine on Facebook and knew that she wanted to help, so she made beaded bracelets for the volunteers of Café Ukraine and incorporated the letter "V" for victory in Morse code.
Café Ukraine is located at the Ukrainian Youth Association Hall on Carling Avenue near Dow's Lake in Ottawa. It's where Ukrainian refugees can meet others in similar straits to share coffee or snacks, swap stories, and seek resources to help them adjust to life in a new country.
Also volunteering to help refugees are the employees at ADGA. With the support of ADGA's Executive Leadership Team, they have been volunteering at Maidan Market in Ottawa.
The Maidan Market is a volunteer-led initiative run by the Ukrainian Canadian Congress (UCC) Ottawa branch. It is a community hub to link newcomers with supplies and support services in the National Capital Region. It is also a place to gather, share and connect. Supplies for refugees are free—from medical and hygiene products, to clothing, food and diapers.
There are a number of organizations that need volunteers and donations. The following is by no means an exhaustive list and we highly encourage you to volunteer for causes that are close to your heart:
Did you know?
Among 100 million people who have been forcibly displaced worldwide as a result of conflict, persecution, human rights violations, and violence, Syria, Venezuela, Afghanistan, South Sudan and Myanmar account for two-thirds of people displaced across borders.
42 per cent of forcibly displaced persons are children under the age of 18.
Last year, Canada provided 30,082 refugees with the opportunity to build a new life for themselves and their families.
Earlier this year, Commissionaires at the national level identified positions open to Afghan refugees: security guards, mobile patrollers, administrative clerks, receptionists, systems security technicians, IoT network cabling technicians, supervisors, and more.

Source: https://www.unhcr.ca/
---
United for a Cause—The Pull of a Great Time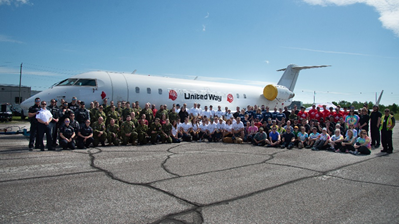 Every year, United Way Centraide North East Ontario holds an Airplane Pull fundraiser at Jack Garland Airport. Working in teams of 10 to 11 people, they hook a 150 ft rope line to a 30,000 lb aircraft and pull it 60 m. Whoever pulls the aircraft past the 60 m line the fastest is crowned the winner. This year, close to $15,000 was raised!
Behind every good cause are good people. Weeks earlier, the Regulatory manager at the airport stopped in at the security office and mentioned they had difficulty finding volunteers for the Airplane Pull event. Cmre Site Supervisor Sgt Martin Durkin helped spread the word, resulting in Cmre Morris Foucault stepping forward as a lively emcee host and Zach Beaudoin volunteering in various capacities.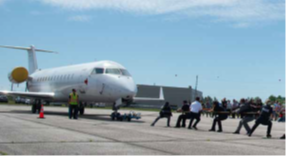 Samim Massoom, Regional Manager – North Region facilitated permissions and supplies, which included sending golf shirts from Sudbury to North Bay.
Although Cmres Josh Cronier-Burns and Karen Goodwin were unable to volunteer on the day of the event, they picked up extra shifts to assist with scheduling and resource requirements.
Martin said, "As site supervisor at Jack Garland, I could not be more proud to work with this team of commissionaires on a daily basis. The event was a success and all guards involved—from volunteering, to picking up the on-duty slack, should be recognized for stepping up and going above and beyond."
We couldn't agree more, Martin. Congratulations to everyone involved in this fantastic event!
---
Are You Prepared for Winter?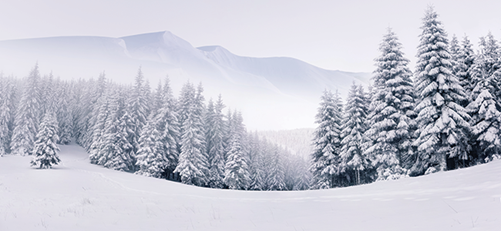 A Message from Laura St. Louis, Manager, Occupational Health and Safety
Don't let warmer weather keep you from being prepared for the winter months ahead. Fall is a great time to go through a checklist and make sure you are ready.
Here are some tips to keep in mind:
At Home
Protect your family from carbon monoxide (CO):
Check your heating and air exchange systems for good airflow
Test your carbon monoxide and smoke detectors and replace the batteries with new ones
Keep grills, camp stoves, and generators out of the house, basement and garage
Generators should be at least 20 feet from the house
Leave your home immediately if the CO detector sounds, and call 911
In case of a winter storm, create an emergency kit with flashlights, batteries, a first-aid kit, medicine and other useful items.
Avoid Car Trouble
Adapt your driving style to winter conditions:
Avoid using cruise control in winter conditions
Steer in the direction of a skid, so when your wheels regain traction, you don't have to overcorrect to stay in your lane
Accelerate and decelerate slowly
Avoid driving when the visibility is low
Winterize your car:
Make an appointment for the annual
tune-up and all-weather/winter tire change
Put a winter emergency kit in your car:

Booster cables or charged booster battery

A bag of sand or salt for traction

Plastic bags for sanitation
Health Tips
This is the real flu season:
Get your flu and COVID vaccinations/ boosters ahead of time
Check your medications and medication supply
Follow mask and hand washing protocols and recommendations
Make sure you have the right outdoor clothing and footwear BEFORE the snow hits!
---
– End of Communiqué –