August 5th, 2022
In preparation for the 2025 Centennial Commemoration, Commissionaires launches Baton and Flag Tour
In the lead up to 2025, the 100th anniversary of the Canadian Corps of Commissionaires, a ceremonial baton and flag will make their way across Canada, passed on from Commissionaires Division to Division.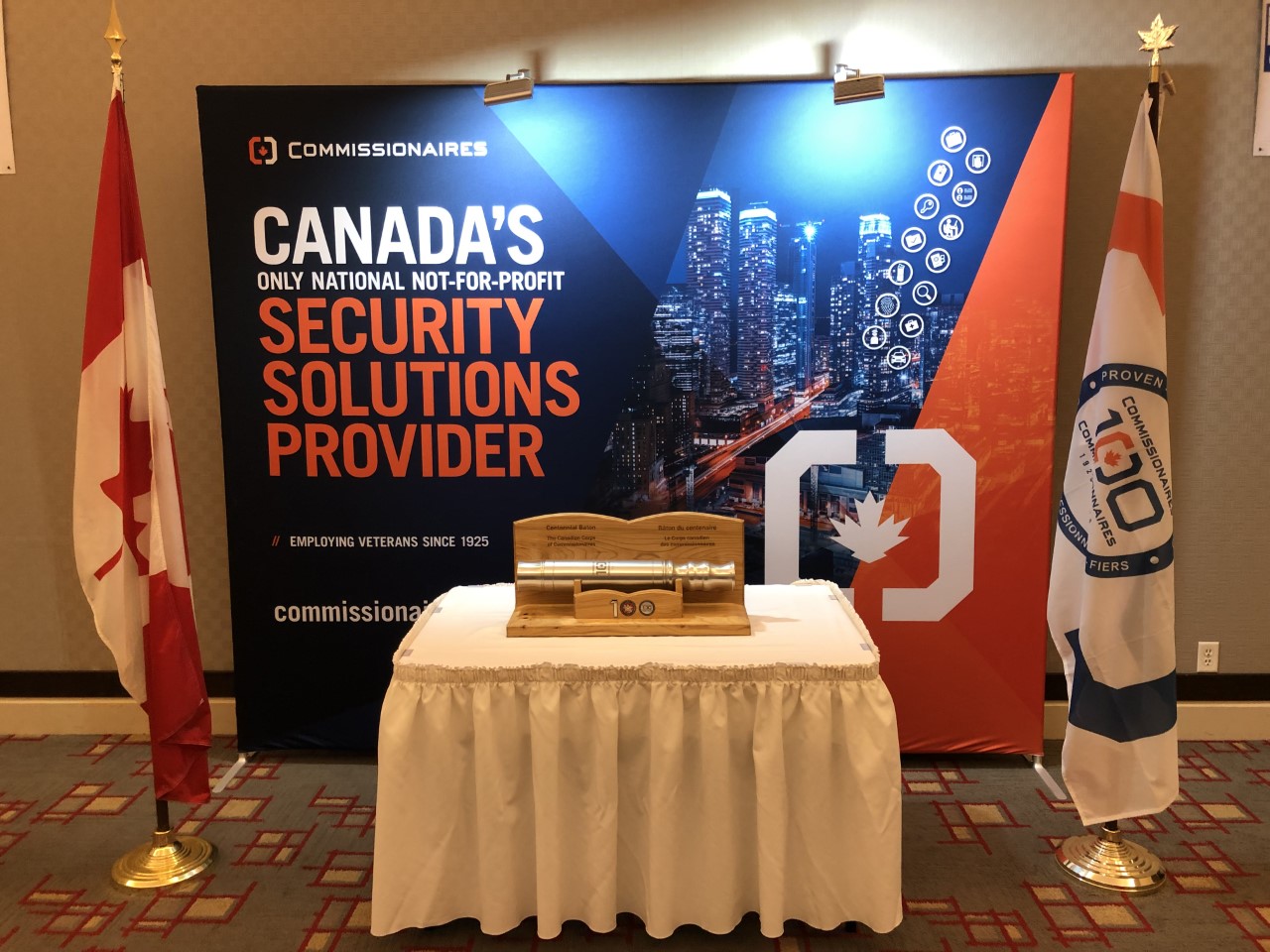 The new initiative will celebrate and connect commissionaires as well as the communities in which they live and serve.
"Symbolizing unity and comradery, the baton's journey will last an incredible 500 days and cover over 5,000 kilometres," said Gord Winkel, Commissionaires National Board Chair. "We plan to have many Commissionaires Baton Bearers in each region."
At its Annual Meeting of Divisions, Commissionaires officially launched its Centennial Baton and Flag Tour, beginning with the Newfoundland and Labrador Division. On the 17th of June, Commissionaires National Board Chair Gord Winkel passed the ceremonial baton and flag to Newfoundland and Labrador Division CEO Capt (Ret'd) E.G. Forward, RCN.
"The Corps prides itself on having a footprint in many communities across Canada, with employees performing a myriad of roles in support of each local area," said Capt (N) Forward. "We're honoured to kick off the tour here in Newfoundland and Labrador." The baton is travelling throughout the province for the summer.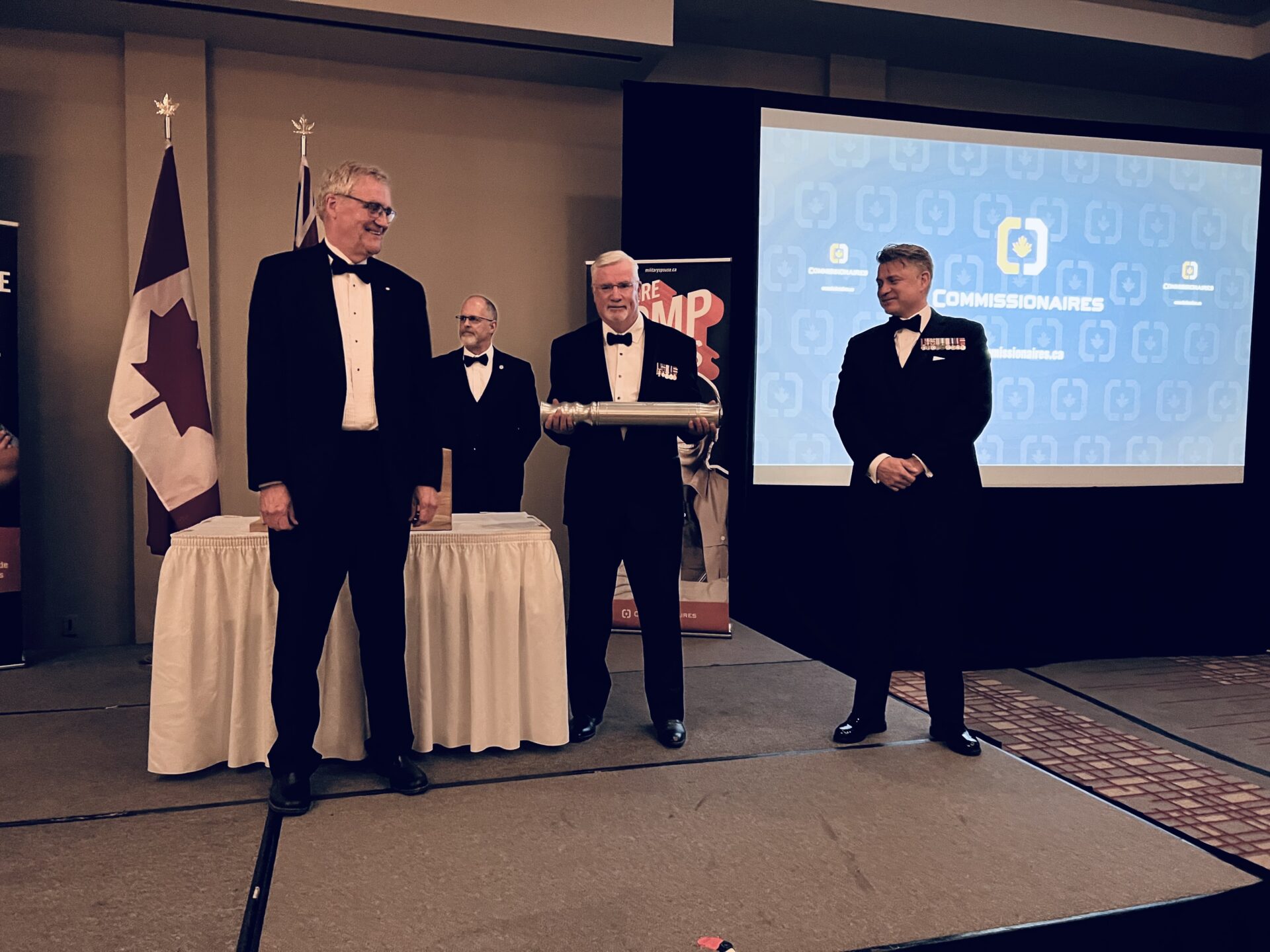 As the largest provider of security services in Canada, the Canadian Corps of Commissionaires has 15 Divisions and over 22,000 professionals working in 1,200 communities from coast to coast to coast. The not-for-profit combines local knowledge with national strength to provide top quality security and protection services.
With the intent of recognizing these hardworking and dedicated employees, the ceremonial baton and flag will be passed to as many commissionaires as possible. At each Division, photos of the baton and flag being handed to groups of commissionaires will be captured and uploaded to our COMMISSIONAIRES CENTENNIAL BATON TRACKER where everyone can follow along.

Baton and Flag Rotation Schedule
| Commissionaires Division | Potential Locations |
| --- | --- |
| Newfoundland and Labrador | Signal Hill, St. John's Harbour, Cape Spear Lighthouse |
| Nova Scotia | Halifax Citadel, Pier 21, HMCS SACKVILLE, Peggy's Cove |
| New Brunswick & Prince Edward Island | Fundy National Park, Hopewell Rocks, Confederation Bridge |
| Québec | Québec City, Chateau Frontenac Citadel, Plains of Abraham Bell Centre, Old Montreal, Notre-Dame-de Bon Secours |
| Ottawa | Rideau Hall, National War Memorial, Parliament Hill, Ambassador Bridge |
| Hamilton | Dundurn Castle, HMCS HAIDA |
| Great Lakes | CN Tower, Rogers Stadium, ON Parliament |
| Kingston and Region | City Hall Waterfront, Old Fort Henry, Royal Military College, Penitentiaries |
| Manitoba | Canadian Museum for Human Rights, The Forks |
| North Saskatchewan | Wannskewin |
| South Saskatchewan | Mosaic Stadium, RCMP Depot, Heritage Centre |
| Northern Alberta | CFB Cold Lake, Fort McMurray, Rogers Place, Nunavut |
| Southern Alberta | Calgary Tower, Heritage Park, Banff, Lake Louise, Canmore |
| British Columbia | Granville Island, Stanley Park, Capilano Suspension Bridge, Vancouver Harbour Waterfront |
| Victoria, The Islands and Yukon | Victoria Harbour, Empress Hotel Royal Roads, Hatley Park, Craigdarroch Castle, Legislative Assembly of BC |
| National Office (Ottawa) | Baton and flag will be brought to Annual Meeting Of the Divisions (AMOD) 2024 (Saint John, NB) |