Join Commissionaires for:
Higher-than-industry pay rates
Health, drug and dental benefits
Life and accident insurance
Paid personal time off, in addition to vacation leave
Free uniforms and equipment
Free high-quality formal and on-job training
Education assistance funds and family scholarship programs
Advancement opportunities within a large, national organization
Commissionaires is Canada's premier security provider: for more than 90 years, we have protected people and property across Canada. Commissionaires is a federation of private, not-for-profit Canadian companies with the highest retention rate in the industry, currently employing more than 22,000 people nationally.
Commissionaires Nova Scotia (CNS) is an independent member of the federation that is dedicated to providing meaningful employment opportunities to former members of the Canadian Armed Forces, RCMP, and appropriately qualified others who want to contribute to the safety and security of Canadians. With 1,500 employees across the province, we serve government and the private sector in a wide range of roles.
Careers

If you have served in the Canadian Armed Forces or RCMP, we have opportunities for you, no matter where you live.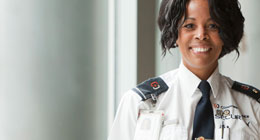 Commissionaires is always looking for responsible team members.