Page content
Careers

If you have served in the Canadian Armed Forces or RCMP, we have opportunities for you, no matter where you live.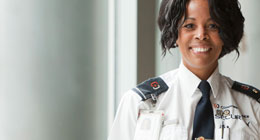 Commissionaires is always looking for responsible team members.
Our Social Mandate
To provide meaningful employment that meets the needs of veterans of the Canadian Armed Forces, the Royal Canadian Mounted Police, their families and others who wish to contribute to the security and well-being of Canadians.